Conclusion
Cambridge audio Evo 150 network streaming player can let you indulge in the song and enjoy the kind of touch that this music brings to you. Moreover, the low frequencies introduced by the two speakers are pretty shocking. So I'm sure this equipment, the bass energy, is excellent. Retractable details, potential low-frequency control, and its driving force are perfect.
Moreover, compared to the DacMagic 200M, the EVO 150's integrated performance and sound are significantly more expensive than the 200M. It is already a high-end product of Cambridge Audio.
Its performance can also meet its marketing target. It is extremely rich in functionality, in addition to the functions that a streamer should have. Its physical connection is also vibrant. Almost all the equipment in your home can be connected to this Cambridge Audio EVO 150 for playback. It can make your different source equipment have better sound performance.
Controls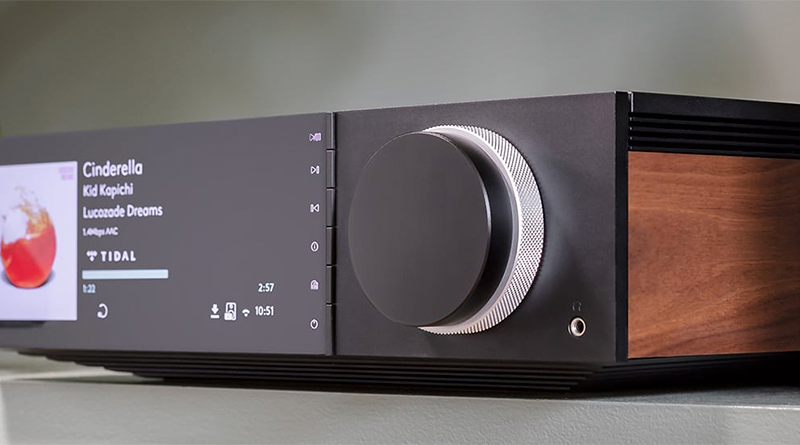 Let's take a closer look at the volume knob of the EVO 150. As it turns out, it consists of two parts, and both of them rotate with a pleasant force, but in different ways. Silver – active input selection – rotates with elastic clicks. Black – volume control – rotates tightly, numbers run smoothly. The aesthetics are present in the nuances. When we first connected to the Cambridge Audio EVO 150, we were pleasantly surprised by the changes in the interface – Stream Magic is regularly updated, and every time you can find some improvements that make the app more convenient.
First of all, from the app we get access to streaming services. And this access is implemented according to the latest standards: if Tidal – then Tidal Connect, if Spotify – then Spotify Connect. The Roon icon is a separate item – it is used to put the Cambridge Audio EVO 150 in Roon Ready mode. In addition, you can also view tracks that are on the server or on a flash drive connected directly to the EVO 150.
Also from the app, you can configure the auto shutdown time, display brightness, volume limit, and even adjust the timbres for the EVO 150 if you suddenly need it. You can connect another pair of speakers to the second pair of loudspeaker terminals, and then choose in the menu which of them will play at the moment: Speakers A, Speakers B, or Speakers A and B together. The last option is "Headphones" – in this case, the signal is fed to the headphone output on the front of the EVO 150.
Cambridge Audio EVO 150 is a real pleasure to communicate with. Whether through the app on your smartphone or through the buttons on the front panel, communication is smooth and predictable.
Build
(Image credit: Cambridge Audio)
The one-box convenience of systems such as this has encouraged a more contemporary 'lifestyle' design ethos, and Cambridge has made the Evo 75 (and its aesthetically similar sibling) a beauty to behold.
Of course, beauty lies in the eye of the beholder, so Cambridge has found a way to appeal to more than one taste and living room decor. The black anodised aluminium chassis – somewhere between half and full-width chassis, measuring 31.7cm wide and about as deep – features magnetically attached side panels that can be swapped out at the owner's discretion. The included panels are walnut wooden (a nod to Cambridge's first product, the P40 amplifier released in 1968) and an attractively corrugated material made primarily from a recycled paper called Richlite.
Whether your taste veers towards classic traditionalism or sleek modernity, the Evo deserves to be seen and not just heard. We're particularly fond of the 6.8in LCD panel and dual-concentric rotary dial on the facade – these design elements are reminiscent of the company's flagship Edge products.
The colourful panel prioritises album artwork and, providing you are close to the box, it's easy to read the accompanying playback info (which includes file size and type) and menu settings. The dial comprises two parts: an outer wheel for browsing and navigating menus, which has a mechanical click, making it easy for you to be exact with your selections, and a more fluid inner volume wheel that's smooth and responsive. 
We'd like the dial to have a 'select' function when pressed, mind – it would feel more intuitive than reaching for the play/pause button or simply leaving it to automatically select.
(Image credit: Cambridge Audio)
Those playback buttons on the right-hand side of the screen (for power, play/pause, track skip, changing the display format and switching between speaker and headphone output) are thin 'strip' keys that, while discreet, aren't particularly nice to use. That's not much of an issue, considering our everyday use of on-unit controls is limited, but note that they do also feature on the remote control.
That remote is a substantial tool – not the tiny credit-card style we sometimes see boxed with modern components – with a finger ridge on the rear that shows Cambridge values the small things. Its buttons mirrors the on-unit ones, also adding extra for display brightness adjustment and presets, however its angle of operation is quite narrow, so it doesn't operate reliably if we're too far off-centre from the Evo 75's front panel.
Presets offer an easy way to access some of your favourite music sources, such as a particular internet radio station, and these can be allocated and selected either through the remote and within Cambridge's StreamMagic app. However, note that not all music can be allocated; we couldn't 'preset' an album from Tidal, for example.
As well as being useful during set-up and for accessing settings, the dedicated app is also on hand to navigate your local, USB or NAS libraries (it proves reliable and speedy for browsing multi-thousand-track libraries, albeit just in list format) and Tidal and Qobuz. You can also choose which sources to show and hide, and that will be helpfully mirrored on the Evo 75's display menu to save you scrolling through the ones you don't need. 
If you are mostly streaming from native music streaming apps (via Chromecast, Spotify Connect, Tidal Connect or AirPlay 2) or a Roon user, you may not need the StreamMagic app – but it's there, and reliable to use, if you do.
Design
Cambridge Audio EVO 150 looks calm and at the same time expensive. But if you suddenly want to add some color, the designers at Cambridge Audio suggest taking the uncompromising step of changing the side panels. The wooden ones give the EVO 150 a more classic look, while the structural, wavy, super eco-friendly material gives it a more contemporary feel. You can also do without panels – the choice is up to the owner.
If after changing the side panels there is still not enough color, just turn on the device and start some track. Huge by the standards of the such device display with a diagonal of almost 7 inches will immediately remind that you need to enjoy life here and now – you can enjoy even just from the interaction with the device, which is very well built. Both haptically and visually, the EVO 150 leaves only pleasant impressions.
Cambridge Audio EVO 150 Specs
POWER OUTPUT: 150W into 8 Ohms
AMPLIFICATION: Class-D Hypex Ncore
DAC: ESS Sabre ES9018K2M
FREQUENCY RESPONSE: 20Hz – 20kHz +0/-3dB
ANALOGUE AUDIO INPUTS: 1 x RCA, 1 x balanced XLR, 1 x Moving Magnet Phonostage
DIGITAL AUDIO INPUTS: 2 x TOSLINK optical, 1 x S/PDIF coaxial, 1 x TV ARC
USB AUDIO INPUT: USB Type B conforming to USB Audio Class 1 or USB Audio Class 2 (user selectable)
BLUETOOTH: 4.2 A2DP/AVRCP supporting SBC, aptX and aptX HD codecs
COMPATIBILITY: TOSLINK optical: 16/24bit 32-96kHz PCM only S/PDIF coaxial: 16/24bit 32-192kHz PCM only USB Audio Class 1: Up to 24-bit 96kHz (asynchronous) USB Audio Class 2: Up to 32-bit 384kHz (asynchronous) and up to DSD 256 Bluetooth: 4.2 A2DP/AVRCP supporting up to aptX HD (24bit 48kHz) UPnP, Local USB media, Airplay 2, Chromecast built-in, Internet Radio, Spotify Connect, TIDAL, MQA, Qobuz, Roon Ready.
AUDIO FORMATS: ALAC, WAV, FLAC, AIFF, DSD (x256), WMA, MP3, AAC, HE AAC AAC+, OGG Vorbis
OUTPUTS: Speakers A+B, 3.5mm headphone, Preamp Output, Subwoofer Output, Bluetooth: 4.2 A2DP/AVRCP supporting up to aptX HD
ETHERNET: IEEE 802.3, 10 Base-T or 100 Base-T
WI-FI: Dual Band 2.4/5gHz
MAX POWER CONSUMPTION: 700w
DIMENSIONS (W X H X D): 317 x 89 x 352mm
WEIGHT: 5.3 kg
ACCESSORIES: Evo 150 All-in-One player, Quick Start Guide, Safety Guide, Mains Lead, Remote Control, 2 x AAA Batteries, Customisable Side Panels x 2
High-Quality Full-Power Audio
At the London headquarters, a team of talented engineers spent hundreds of hours listening to Evo and adjusting it to perfection. All of this ensures that Evo provides an enjoyable sound performance, no matter what you are listening to.
Cambridge Audio Evo 150 streaming player uses high-quality components powered by the revolutionary Hypex NCore Class D amplifier, which can reproduce every detail in music while remaining compact and energy-efficient. The Evo 150 has a rated power of 150 watts per channel, and Evo 75 has a power of 75 watts per channel.
The output power of the two devices using the Hypex NCore Class D digital amplifier circuit for the first time is also higher than that of Cambridge Audio's previous products. So the degree of freedom when matching speakers is also greater. In addition to the amplifier circuit, EVO 150 and EVO 75 also have a little bit of decoding different technique. Although ESS produces both, Evo 150 uses ES9018K2M, and Eco 75 uses the sampling rate supported by ES9016K2M.
Sound Performance
Talking about the sound performance, I used two pairs of bookshelf speakers to match the Cambridge Audio EVO 150 during the test. The first pair is KEF R3. All in all, EVO 150 can make R3 have a very rich low-frequency performance and a very outstanding sense of music. That is unexpected. Although the music format supported by EVO 150 has exceeded the mainstream high-definition music, a device that will not be outdated.
But its sound is the orientation of traditional audio. The atmosphere of the sound is essential to make you immerse in each song. The overall image, the width of the sound effect and the sound field placed in different positions are also naturally present. If you were very interested in KEF's R3 before, and this time you have heard of EVO 150 streaming network player and feel that its functions can satisfy you. This combination is very worthy of your attention.
Pair with B&W 706 S2 to match Cambridge Audio EVO 150. When I tried the Cambridge Audio DacMagic 200M last time, I also used the 706 S2 speakers to match it. Of course, the loudspeaker is different. The sound difference between the two can be distinguished. More musical, with emphasis on streaming.
Specifications
Official site: www.cambridgeaudio.com
Verdict
There are now many streaming hi-fi products that sound great, look superb or are pleasant to use, but not many manage to nail all three as convincingly as the Cambridge Audio Evo 75. In the premium one-box streaming system market, nothing has before come this close to Naim's Uniti range in offering the complete package.
If you're looking for the ultimate convenience in a superb-sounding, well-featured parcel, and can't stretch your budget to the Uniti Atom, the Evo 75 is simply the best system of its kind to spend quality time with.
SCORES
Sound 5
Features 5
Build 5
MORE:
Read our guide to the best hi-fi systems
Read our Naim Uniti Atom review
Read our Arcam SA30 review
Sound
(Image credit: Cambridge Audio)
Cambridge's efforts to tick boxes and create a satisfying user experience haven't gone to waste. The Evo 75 is the sonic success its spec sheet deserves. It's powered by third-party Hypex NCore Class D amplifiers, as opposed to the architecture Cambridge develops for its standalone amps, but, no doubt due to exhaustive tuning, it sounds no less 'Cambridge' for it – insightful, open and musical.
The clarity and breadth of the Evo's soundstage are instantly apparent. We ease our way in with Penguin Cafe's At The Top Of The Hill, They Stood instrumental, and the Evo's rendition is graceful at every turn. It's here we get our first hint of the Cambridge's midrange articulacy, with a lovely fluidity and warmth to the melodious piano and melancholic strings. 
There's no shortage of room or attentiveness preventing either instrument from expressing itself dynamically – key in keeping you interested and involved in the piece – and as the soaring melodica comes in, no limitations in scale on the Evo's part get in its way.
There's a rousing drive to Anderson .Paak's Come Home (feat André 3000) that's complemented by a solid sense of rhythm, the Evo punctual and dynamic in its handling of the track's buoyantly bluesy instrumental. And detail resolution is generous and spread evenly across the frequency range, too. André 3000's rap cuts through tuneful bass notes and cutting cymbals with the fluidity the tempo demands, his cadence well communicated. While the Evo's vocal delivery isn't the last word in naturalness, it has a lush and solid character that's hard not to like.
Similarly with Kate Bush's Babooshka, the Evo 75's rendition has the punch and dynamic scrutiny to communicate the production's jauntiness, as well as the transparency to get under both the delicate and dramatic moments of her eclectic delivery.
We plug the Grado SR325e and Meze Audio 99 Classics into the Evo's front-panel 3.5mm output, which prompts the volume to automatically reduce (it returns to the previous speakers' output level when they're unplugged), and while it's a cruder listen – there's a slight loss of clarity and refinement – it's still informative and entertainingly forthcoming.
Having started our listening with our reference ATC SCM50 speakers, we turn to the more price comparable, Award-winning KEF LS50 Meta and find they too play to the Evo's strengths. Together their outlay isn't insignificant – we're talking around £2800 ($3750, AU$5500) – but for a system of this price, footprint and convenience, the level of performance they deliver is impressive. Even a partnership with the more affordable Bowers & Wilkins 607 S2 pleases: the presentation is more confined and bereft of the resolution and dynamic insight the KEFs can muster, but it's still snappy, upbeat and ultimately likeable.
The multi-Award-winning Naim Uniti Atom demands a fairly sizeable premium over the Evo 75, and that price gap is indeed justified by its extra punch and rhythmic precision, as well as its ability to dig up a little more detail and present it in a soundstage that's a touch clearer.
EVOлюция жанра
Модельный ряд компании Cambridge Audio пополнился еще одной линейкой: семейство EVO объединяет в себе многофункциональные стримеры со встроенными усилителями разной мощности. Прямо сейчас серия включает в себя только две модели – на 75 и 150 Ватт, соответственно, однако уже сейчас понятно, что этим дело не ограничится. На европейском рынке эти устройства дебютируют в течение ближайшего месяца, а значит, в обозримом будущем «венцы эволюции» доберутся и до российской розницы.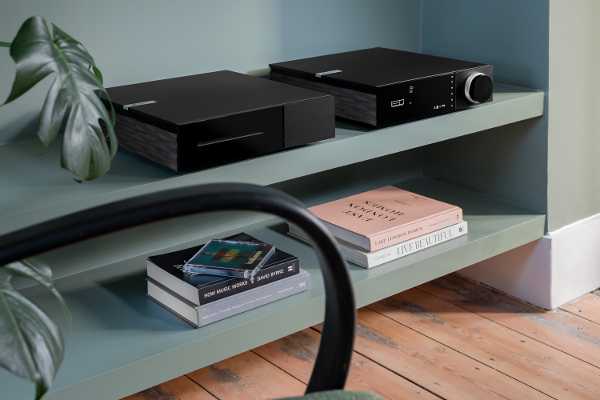 Пока же давайте познакомимся с ними заочно, тем более, что линейка и впрямь обещает быть очень интересной. Стримеры EVO 150 и EVO 75 выполнены в характерном для Cambridge стиле, окрашены в стильный темно-серый (почти близкий к черному) оттенок и оснащены информативным дисплеем, занимающим примерно две трети всей фронтальной части корпуса. Сам производитель определяет класс EVO как «all-in-one» для требовательной публики: согласно официальному пресс-релизу, модели серии воплощают передовые разработки компании и учитывают ожидания аудитории.
Последнее, не в последнюю очередь, относится к функциональным возможностям устройств. Разумеется, здесь предусмотрена поддержка популярных стриминговых сервисов, множество вариантов подключения и возможность использования в качестве источника контента практически с что угодно. А старшая модель, помимо вдвое большей мощности, получила еще и встроенный фонокорректор (ММ) – серьезный плюс для тех, кто готов рассматривать любые варианты для расширения домашней системы. Кроме того, в этом же году производитель обещает выпустить акустику EVO S и проигрыватель EVO CD – усиление на подходе!
Ключевые особенности стримеров EVO 150 и EVO 75:
 Дизайн вне времени. Стильный корпус, классический окрас, компактные размеры, сменные боковые панели и встроенный LCD-дисплей диагональю 6.8 дюйма.
 Отличное качество звука. Модели серии выдают отличный саунд вне зависимости от того, какие жанры или каких исполнителей вы предпочитаете. Продвинутые компоненты и революционная система усиления Hypex NCore класса D обеспечивают достаточный запас мощности и впечатляющий уровень детализации звука.
 Оптимизированы для стриминга. Сердце устройств линейки EVO – сетевая платформа StreamMagic, поддерживающая все современные форматы и сервисы для трансляции музыки в высоком качестве. Встроенный ЦАП серии ESS Sabre на борту, возможность подключения по aptX HD Bluetooth, быстрый доступ к Qobuz, Tidal, Spotify и предельная простота управления – всё включено!
 Подключайтесь ко всему. Модели серии предлагают богатый выбор цифровых и аналоговых интерфейсов для подключения, включая оптику, разъем RCA, вход TV ARC под кабель HDMI, джек на 3.5 миллиметра для подключения наушников, и т.д.
Официальным дистрибутором продукции Cambridge Audio на территории России является группа компаний DIGIS.
О компании ГК DIGIS
Подробнее о бренде Cambridge Audio
СЛЕДУЮЩАЯ НОВОСТЬ
LG объявляет о старте продаж сворачивающихся телевизоров LG SIGNATURE OLED R
ПРЕДЫДУЩАЯ НОВОСТЬ
Epson представляет беспроводные презентационные системы Let's Share, обеспечивающие мгновенное подключение и эффективную совместную работу
01.04.2021 DacMagic 200M: стоит того, чтобы подождать
26.02.2021 Cambridge Audio — снижение цен
29.01.2021 DacMagic 200M: преобразователь нового порядка
16.10.2020 Переходи на Cambridge с программой Trade-In
23.09.2020 Комната удовольствий
Главная страница > Новости > Новинки > EVOлюция жанра
Connections
Cambridge Audio Evo 150 all-in-one player includes a large number of digital and analogue connections, so you can add any source: from your existing turntable or CD player to using Evo as your TV sound system. In addition to the optical, coaxial and RCA inputs, a TV arc input is also needed to connect a TV with an HDMI cable.
A 3.5 mm headphone jack allows you to plug in your favourite headphones and listen to music at any time. You can also use Evo's built-in aptX high-definition Bluetooth to connect your wireless turntable and wireless headphones, allowing you to enjoy high-definition streaming music without any wires.
Cambridge Audio EV 150 Ocan be directly connected to your smartphone via AirPlay 2, Chromecast. And EVO 150 has two sets of speaker binding posts connected to A/B speakers to play with Bi-Wire. If these are not enough, there are others too. EVO supports Bluetooth aptX HD input and output.
When you connect your mobile phone to listen to music, your family can enjoy the Qualcomm aptX HD Bluetooth codec when using Bluetooth headphones. It is also equipped with HDMI ARC output terminals. What's the use of this function? The main reason is that the 150 or 75 of this EVO series can also be directly connected to the TV to play. It doesn't even need fibre, which is very convenient.
To achieve the ultimate convenience of "plug and play", Cambridge Audio has specially developed a pair of Evo S speakers with excellent sound quality to create a complete Evo system. EVO S, this speaker has a 1-inch silk film tweeter and a 6.5-inch woofer. The back of the speaker also has a pair of gold-plated posts that look like a bookshelf speaker. The curved design at the bottom makes it more stable.
The speaker cabinet is composed of an MDF board. The top and front baffle are made of aluminium. The goal is to let the product be launched on the market as a complete EVO music system. Users can plug and play, easy to play two-channel design is also the concept of the design goal of the EVO series.
Sound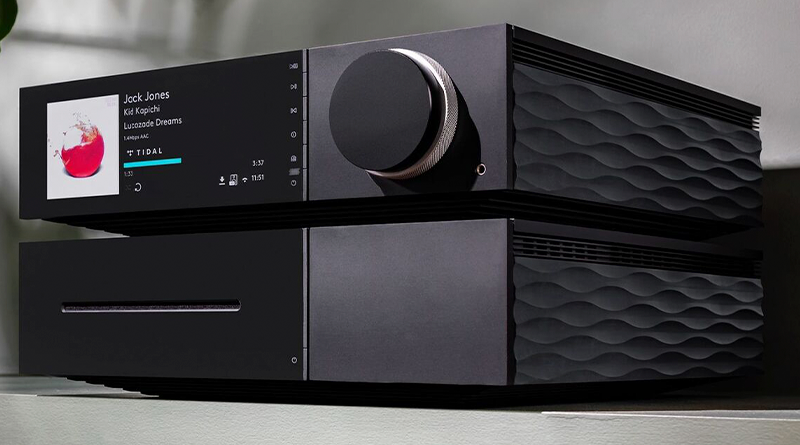 For testing with the Cambridge Audio EVO 150, we used DALI acoustics. And we had both DALI Opticon 2 bookshelf speakers and DALI Opticon 6 MK2 floorstands. Both speakers are excellent examples and are well known to many audiophiles for their sound. On the one hand, with the first track, it became clear that the device sounds exactly from Cambridge Audio. First of all, the manufacturer gave itself out in tonality: fairly flat across the entire range, but at the same time with an interesting presentation and musical smoothness.
On the other hand, Cambridge Audio may not be recognized. The fact is that the dynamics and resolution indicators in the EVO 150 came clearly not from the CX line, but from somewhere higher. Something similar can be heard from the amplifier/streamer bundle from the Azur line – and this is good news.
We started listening to the Cambridge Audio EVO 150 with the soundtrack of the movie "Joker". Very difficult compositions, with emphasized lower register of stringed instruments. Here the EVO 150 was not easy, but we can still say that it made it. Witness to this were the goosebumps on our skin. For the next portion of goosebumps, we go into a different genre – let it be "London Grammar". And here we also got what we expected.
It is worth noting the good construction of the scene and the positioning of the instruments in space. Moreover, here we can already talk about echelon and other audiophile fiddles. The fact is that the sound of the Cambridge Audio EVO 150 has never even hinted that it is based on digital amplification. But he didn't leave it at all, but kept the best that could be taken from there: the dynamics and acoustics control of the EVO 150 deserve praise.
Cambridge Audio EVO 150 is well versed in musical genres and will play whatever you have to offer. This is how a device of this class should be, because its initial position is to become one and only in a rack. And the temptation to keep this device alone, getting rid of a bunch of old devices, is very great.
Features
(Image credit: Cambridge Audio)
Today's streamers are expected to be as extensively furnished as an IKEA showroom, and the Evo 75 is determined not to be out-featured at this level. Cambridge's StreamMagic platform is an inviting gateway into streaming from Tidal, Qobuz and, via DLNA, any network-stored music drives.
Cambridge Audio Evo 75 tech specs
(Image credit: Cambridge Audio)
Outputs 3.5mm, preamp, sub
Inputs Coaxial, optical, RCA, USB, HDMI ARC, ethernet
Max power 75W per channel
AirPlay 2 Yes
Google Chromecast Yes
MQA Yes
Dimensions (hwd) 9 x 32 x 35cm
Spotify Connect and the new Tidal Connect (complete with MQA support for streaming hi-res Tidal Masters) are onboard to allow subscribers to play and control those services' libraries from the native apps, while Google Chromecast offers native app playback for the likes of Deezer, YouTube Music, Apple Music and TuneIn Radio, too. AirPlay 2 allows one-touch casting from Apple devices, aptX HD Bluetooth offers an 'offline' streaming method, while support for Roon Ready completes a comprehensive streaming connectivity list.
The numerous ways in which you can stream music from your phone or tablet these days may seem daunting, but whichever route you decide to go down, the Cambridge won't discriminate. There is also the opportunity to add external sources to the set-up, whether that's a TV, CD player (Cambridge plans to launch an Evo CD transport later in the year) or storage drive, via the Evo 75's RCA, USB, coaxial, optical and HDMI ARC sockets.
Turntable owners will notice no mention of a built-in phono stage – sadly, that's not an oversight on our part. As well as delivering double the power output and featuring a different ESS Sabre DAC chip, the step-up Evo 150's selling point is the inclusion of phono, asynchronous USB and balanced XLR inputs, a second optical input, plus two sets of speaker terminals for running two pairs of speakers simultaneously. Vinyl-loving Evo 75 owners will have to connect a deck with a phono stage to the RCA input, or buy a separate phono stage.
Contents:
Why was the device named "EVO 150"? We think that "EVO" can not be discussed, here everything is clear. And 150 in the name is the power in watts per channel at a load of 8 ohms. Very simple and practical. Of course, there is a DAC here – this is the Saber Reference ES9018K2M. It supports all the necessary "bits" and "kilohertz", and DSD also did not stand aside. But the most important thing for technology that represents the so-called new wave of all-in-one devices is hardware support for MQA. Because this trend has reached such intensity that sometimes there are times when the availability of MQA support becomes a decisive factor in choosing such a device.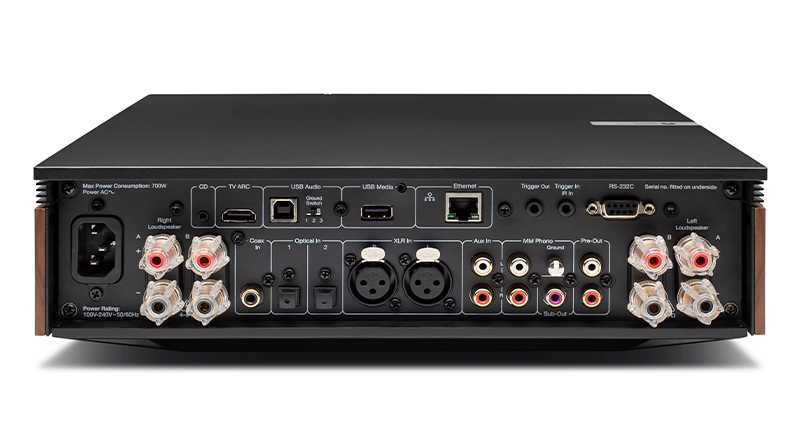 The EVO 150 DAC will clearly not be left without work: the Cambridge Audio developers have done everything in their power for this. There are two optical inputs on the rear panel, one coaxial and USB of two standards at once: A and B. In addition, there are a pair of XLR connectors and a pair of RCA connectors for receiving an analog signal. There are also a couple of RCA connectors and a ground terminal: an MM phono stage. In the UK, they do not forget that the "new wave device" is not only streaming and MQA, but also vinyl players. Cambridge Audio took all this into account, paid attention and brought it into the circuitry.
There is also a subwoofer output and a preamplifier output, as well as a LAN connector for connecting to the Internet – and it is also audiophile, because a good LAN cable improves the sound, as many believe – this is where the audiophile connectors end. And for movie lovers, there is one HDMI ARC connector.
Traditionally, the developers of Cambridge Audio paid attention to the integration of the EVO 150 into various control systems: there is a connector for the RS-232C bus, an input and output for trigger cables, as well as a separate connector for interaction of the EVO 150 with the new CD-player from the same line – EVO CD.
We can finish the description of the connection nicely: four pairs of terminals for connecting speaker cables! In fact, it is not only beautiful, but also very functional – but more on that later.
Streaming Features
The core of Cambridge Audio Evo 150 is Cambridge Audio's powerful StreamMagic platform. It is designed to be the best streaming media platform, supporting the latest digital music formats and services. Both Evos use the powerful ESS Sabre DAC to ensure that all digital music can be converted to analogue sound. And every ounce of detail, precision and dynamics are intact.
Whether you use Roon to organize your digital library or use TIDAL Connect to stream high-resolution MQA tracks, Evo can be capable of all of them. And StreamMagic will ensure that you can hear your music with the best sound quality, no matter where you play it from, regardless of the source sound quality.
Supporting Cambridge Audio Stream Magic platform, it can connect to different streaming platforms such as Tidal, Qobuz or other international streaming platforms that are familiar to everyone and play different high-definition music, including the ability to read DSD256 directly from the NAS server or USB. It can directly play the MQA full codec, so it is a very integrated and comprehensive function.
Simple and Elegant Design
The chief designer of Cambridge Audio, Ged Martin, chose the best quality materials and used the most elegant industrial design principles in his London studio to create Evo. This product advocates simplicity and durability.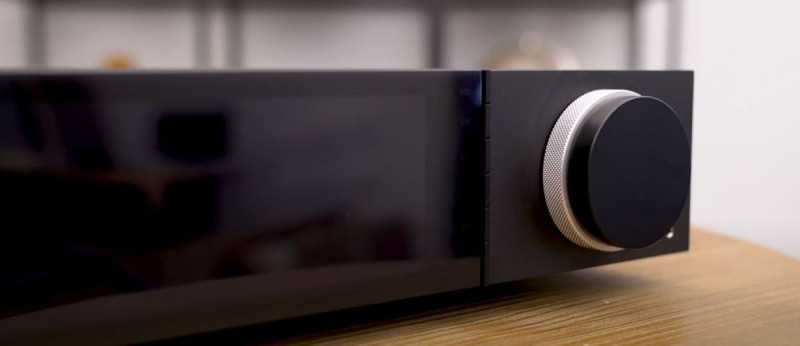 Evo draws inspiration from the wooden decoration of Cambridge Audio's iconic product P40, with beautiful walnut side panels that complement the smooth black alumina panels. Evo also offers moulded black side panels made of Richlite, an innovative new material mainly made of recycled paper. The side panels can be replaced according to the style of each customer.
Cambridge Audio EVO series is Cambridge Audio's new all-in-one products, including EVO 75 and EVO 150. In appearance, there is little difference between the two, the whole structure and even the design are the same. What is so special about the design? It uses the flagship model Edge series, the same coaxial volume control and the source switch knob concept. The feel is very similar to the Edge series.
Related posts