iFi Zen Signature Set Sound
Since the ZEN Signature set was theoretically engineered for the Drop HD6xx, I started listening with my handy pair after a few days of running music through them. Early impressions were largely that of a relatively neutral sound signature.
My only thoughts about the frequency response were that there's a mild and tasteful mid-lift of a degree that I could easily live with, and that it definitely brought out a good degree of vibrance in most things I listened to.
Having done the majority of my leisure listening on iFi devices (an iDSD micro Black Label and iDSD nano Black Label) for the last several years, I was really curious to see how the stack would… er… stack up. Comparatively, my initial response was that it reminded me in ways of the IDSD nano: big and warm, tactile and pretty harmonically juicy.
It certainly has much more power than the Nano and has an equivalent amount of power to the Micro in Normal mode. It certainly has much more defined bass than the Nano as well. The DACs sounded vaguely similar – all three being iFi's Burr-Brown implementation. The family resemblance only goes so far, however.
iFi ZEN Signature Set, iFi IDSD Micro BL, and laptop.
The closest in resemblance is certainly the iDSD micro, which by comparison is a very in-control sound. It's refined. It's exact. It's got depth. In many ways, it seems very English in the same way as a set of Spendor speakers insofar as everything it presents is in a lovely amber glow and eminently listenable.
If one were to find fault in it at all, it would be to say that it's relaxing, but sometimes too relaxing, polished and, well, perfect. Perfect has its place, that's to be sure, and there are worse complaints to be had.
With the ZEN Signature stack, iFi has changed the chemistry a bit, and this is where in sitting down with it, immediately I got transported back to that Magnavox console. My first thoughts were that a similar 'ragged but right'-ness was cooked in, and clearly, instead of focusing on the 'perfect', it seems like John Curl and the iFi team had focused on something a bit looser, more naturalistic, and less polished.
The spatial presentation and scale of the Signature seem closer and bigger. The timbres are more vibrant. Dynamically, it has a bit more jump and PRAT. Harmonically and texturally, this amp is different from my other iFis, and it presents more like live music in a small room with all the rasp and bluster in full view.
It's the precocious younger brother for sure. I'm not sure if it's a matter of the bigger AC power supplies, that the tuning has a bit more upper midrange, maybe it has less global feedback, but it IS a fun presentation with any cans I tried it with.
The HD6xx match is great, absolutely, and I felt that the tuning for it is indeed a plus in its small bass lift and tasteful upper-end tweak. This functionality alone will likely sell lots of this amplifier for obvious reasons.
But with none of the thoughtful additional tonal circuits engaged, the combination amp and DAC seemed to really have some fantastic synergy with my darker headphones such as the Beyer DT150 or DT250, and especially shone on the Audeze LCD-2C.
Brighter cans such as Grado SR80's, were perfectly usable and sounded great indeed, but were less well matched to my ears for my own particular listening habits. While I am not a big user of IEMs, I did try the balanced connection to a pair of Thieaudio Legacy 5, and found they sounded very respectable with no noticeably higher noise than with my high impedance cans.
The ZEN Signature Set playing MQA with 5.3 firmware.
Передатчик и приемник Mpow Bluetooth
Идеально подходит для машины
Удивительно прочная конструкция
Достойный звук для своего размера
Немного дороговато
Короткое время автономной работы
Выходы: 3,5 мм | Диапазон: 33 фута | Вес: 92 г
Поскольку все больше смартфонов продолжают отключать разъем для наушников, использовать дополнительный кабель в автомобиле уже не так просто. Если у вас есть автомобильная стереосистема без Bluetooth, вам абсолютно необходим адаптер, чтобы воспроизводить ваши любимые песни в дороге. Bluetooth-приемник Mpow — лучший вариант для этого.
Это немного дороговато для такого маленького адаптера, но, учитывая общее качество, это неплохая сделка. Он довольно компактен, поэтому вы можете подключить его к стереосистеме автомобиля и забыть о нем. Спереди есть заметная кнопка включения, а сбоку — кнопки регулировки громкости.
Также вверху есть кнопка для переключения между устройствами. В нем даже есть встроенный микрофон для приема звонков, хотя качество очень плохое. Он автоматически подключается к последнему сопряженному устройству, поэтому вам никогда не придется с ним возиться. Качество звука приемлемое для размера и вполне приличное, если вы хотите использовать автомобильную стереосистему.
Единственный минус — цена и время автономной работы. Время автономной работы достаточно хорошее, около 10 часов использования, но если вы хотите использовать его в машине, вам понадобится автомобильное зарядное устройство. В противном случае вам придется часто отключать его от сети для зарядки.
Post Views:
578
I/O
The ZEN DAC signature uses a single USB input which is a type B USB-C female connector. All the other connections are analog outputs. There's a pair of standard L/R RCA outputs plus a 4.4mm Pentaconn balanced output. I did wish it had more input connectivity, perhaps an additional optical or a SPDIF input would have been nice.
The 6xx amplifier has 3 analog inputs which are rear-mounted; two are single-ended, the RCA and the 3.5mm input. The third input is a 4.4mm Pentaconn balanced input. The amp also has a 4.4mm Pentaconn output which can be used for dual or multiple amplifier setups.
Upfront, the DAC has no connections but the amplifier does. There are two connections on the front panel of the 6xx amp which are the 3.5mm single-ended and the 4.4mm Pentaconn balanced headphone output.
So we have one USB in, three analog inputs on the amplifier, daisy chain capability plus two headphone outputs which all together I think is more than adequate for most desktop setups.
The Different Models
iFi Zen DAC — $129.99
This is a DAC/Amp combo — and for most headphones this is all you'll need. The DAC uses the Burr Brown chip.
Features: 'TrueBass' button, Power Match button, balanced out
Specs:
Supported Formats: DSD256/128/64, Octa/Quad/Double/Single-Speed DSD DXD(384/352.8kHz), PCM(384/352.8/192/176.4/96/88.2/48/44.1kHz) MQA
DAC: Bit-Perfect DSD & DXD DAC by Burr Brown
Headphone Section
Output Power: (@1% THD) 4.4mm Pentaconn (BAL) 330mW@32 Ohm; 6.6V@600 Ohm; 16 Ohm — 600 Ohm Headphone 6.3mm S-BAL (SE) 230mW@32 Ohm; 3.3V@600 Ohm 16 Ohm — 600 Ohm Headphone Note: Using 5v power. If powered from USB, power output may vary.
iFi Zen CAN — $169.99
This is the standalone headphone amplifier counterpart to the ZenDAC with more power and extra features.
Features: 4 gain settings, 'XBass' button, 3D button, balanced input and output
Specs:
Inputs: 4.4mm Pentacon BAL, RCA L/R, 3.5mm Jack SE
Headphone Output: 6.35mm, 4.4mm
Maximum output power @ 600 Ohm: 15.1V / 385 mW (Balanced)
Maximum output power @ 64 Ohm: 11.0V/1890 mW (Balanced)
Maximum output power @ 300 Ohm: 7.6V / 196 mW (SE)
Maximum output power @ 32 Ohm: 7.2V / 1600 mW (SE)
Gain: 0dB, 6dB, 12dB and 18dB
iFi Zen DAC Signature — $249 ($229 with the Amp)
This is a standalone DAC with no headphone output. It also features the Burr Brown chips commonly found in iFi's DACs. The main difference between the Signature Zen DAC and the regular Zen DAC — apart from the headphone amplifier — is iFi's use of premium components found in their higher end products.
Features: Balanced out, variable or fixed volume control
Specs:
Supported formats: 44.1 / 48 / 88.2 / 96 / 176.4 / 192 / 384 kHz, PCM
2.8 / 3.1 / 5.6 / 6.2 / 11.2 / 12.4 mHz, DSD
353 / 384 kHz, DXD
DAC: Bit-perfect DSD and DXD by Burr Brown
Audio RCA output (unbalanced): 2.1 V fixed, 1 V – 3.3 V maximum (variable)
4.4 mm Pentaconn output (balanced): 4.2 V fixed, 2 V – 6.2 V maximum (variable)
Z output (unbalanced): ≤ 100 ohms
Z output (balanced): ≤ 200 ohms 
iFi Zen CAN Signature — $249
This is the standalone headphone amplifier counterpart to the Signature Zen DAC from Drop. The main point of this unit is to pair with the very popular Sennheiser HD6XX headphones. The Signature edition features a specific 'HD6XX' function that adjusts its frequency response (not just in the bass). Note that this is all analog and not digital signal processing or software EQ.
Features: 4 gain settings, 'HD6XX' button, 3D button, balanced input and output
Specs:
Inputs: RCA, 3.5 (single-ended), 4.4mm (balanced)
Headphone output: 6.35 mm, 4.4 mm
Maximum output power (16 ohms): 3.0 V / 600 mW (balanced), 4.0 V / 1000 mW (single-ended)
Maximum output power (300 ohms): 15.1 V / 756 mW (balanced), 7.6 V / 196 mW (single-ended)
Maximum output power (600 ohms): 15.2 V / 385 mW (balanced), 7.6 V / 98 mW (single-ended)
Zout (headphone out): 0.25 ohms (single-ended), 0.5 ohms (balanced)
Zout (balanced line out): 200 ohms
Gain: 0 dB, 6 dB,12 dB,18 dB adjust
iFi Zen Blue
The Zen Blue is a Bluetooth streamer that allows you to stream wireless to your iFi stack. This unit will not be part of this evaluation since there is no Drop version and it's really just there to be able to make it all bluetooth capable, but it is pictured in the top image.
Design
No one else makes headphone gear in rounded trapezoidal shapes and is a unique Unmistakable iFi design. This iFi exclusive design this time around lost some of the past retro looks by a change in color scheme to a blue tint and white lettering.
The older variants with brushed aluminum looked more retro and this color scheme brings the components more in line with a modern-looking component.
The trapezoid shells are seamless and made of metal. Construction is hefty and holding each unit gives you a sense of rigidity and quality on a very high level. The metal shell also does a very good job of shielding against external interference. I actually put my phone directly on top of the units and heard no noise whatsoever.
There is one small particular improvement that might seem insignificant but I did notice it. The ZEN CAN and ZEN DAC buttons had a metallic rattle if you shook the unit but on this unit, that quirk has been improved and the buttons seem to be better padded now.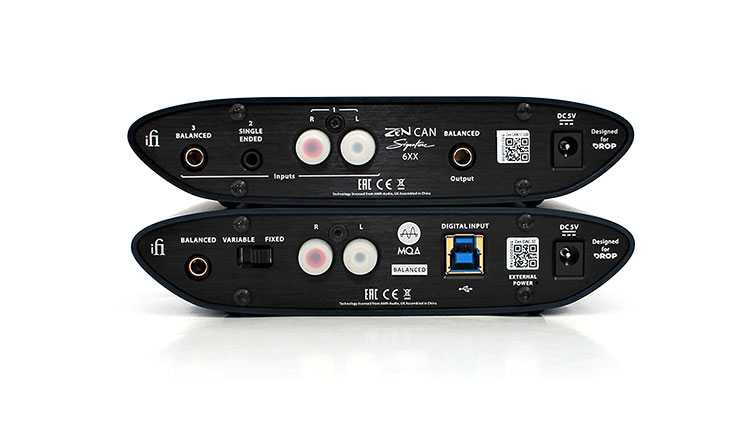 Features & Usage
The Zen Blue might seem a bit intimidating at first, but don't fret. It has but one button on the left, with a center iFi logo that illuminates different colors, and another light on the right that also displays colors. Cool. Colors.
On the back, there's a balanced 4.4mm output, a pair of RCA Analog Outputs, an Analog/Digital Switch, a Coaxial Output, an Optical Output, and a DC 5V power jack.
The Zen Blue is thus a wireless DAC that outputs to various sources, but most notably functions as a Bluetooth DAC that you will pair up to your phone.
The front and center illuminated iFi logo indicates which codec you're using. I have an Android phone with aptX, so it lights up blue. Let's take a look at some other formats you may encounter:
AAC = Yellow
aptX = Blue
aptXHD = Magenta
LDAC = Cyan
HWA = White
SBC = Green
The kHz LED on the right will illuminate one of 2 colors:
44/48 = Blue
88/96 = White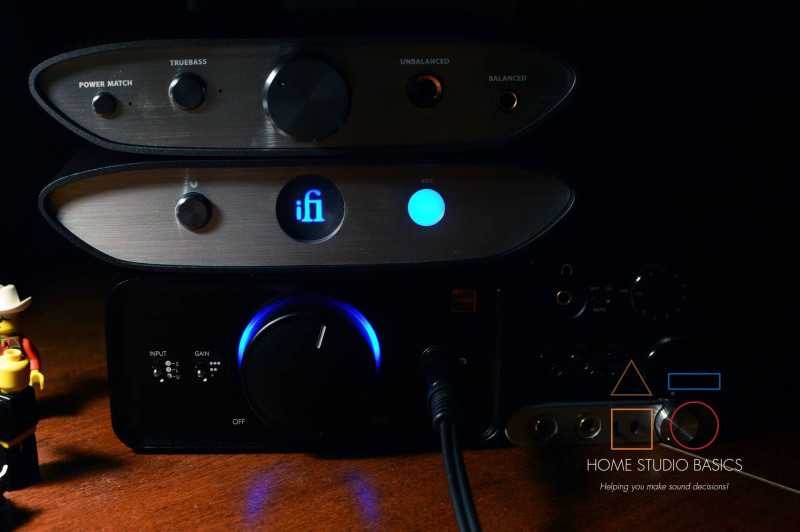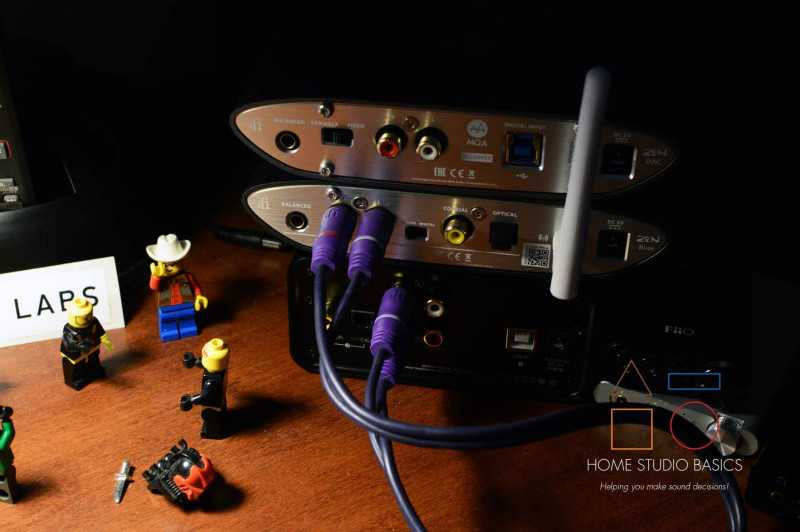 Play music wireless with the Zen Blue + FiiO K5 Pro!
For pairing, the Zen Blue comes with a pair of RCA to RCA cables. Just make sure you have some sort of Headphone Amplifier or speakers that have RCA inputs.
I currently have a FiiO K5 Pro and just bought the Presonus Eris e3.5, but any Amp or speakers that support RCA Analog In will suffice. JDS' Atom, Objective 2 (customized), Schiit's Magni 3, etc. will all work.
All you would do is plug both cables into the RCA Outputs on the back of the Zen Blue, and then plug the other ends into the RCA Inputs of whatever amp or speakers you're using. Now you're ready to pair it up to your phone.
Technical Specifications
ZEN DAC
Input: USB 3.0 Socket (USB 2.0 Compatible)
Formats: 2.8/3.1/5.6/6.2/11.2/12.4 Mhz DSD, 352.8/384 KHz DXD, MQA
DAC: Bit-Perfect DSD & DXD DAC by Burr Brown
ZOUT:
SNR:
DNR: >117dB (A) @ -60 dBFS (BAL/SE)
THD+N:
Outputs: Balanced 4.4mm, 2V-6.2V max. (variable)/4.2v (fixed), RCA (SE) 1V-3.3V max. (variable)/2.1V (fixed)
Power consumption: 5v/174ma, P=.887W on idle using included iPower
Dimensions: 160(w) x 117(d) x35(h) mm
Weight: 0.75kg
ZEN CAN 6XX
Inputs: RCA, 3.5mm (SE), 4.4mm (BAL)
Headphone Output: 6.35mm, 4.4mm
Gain: 0db, 6db, 12db, 18db adjustable
THD+N (A weighting): 0.0066% (BAL), 0.0058% (SE)
Output impedance:
Z OUT (BAL line out): 200 ohms
SNR: 122 dB (BAL)
Dynamic Range: -122 db (BAL)
Frequency Response: (-3db): 10Hz to 200 kHz
Function Button: HD6xx adaption and/or XSpace; bypass
IMD: 0.01%
Power Max output power (16 ohms): 3.0V/ 600mW (BAL), 4.0 V/1000mW (SE), Max output power (300 ohms): 5.1V/ 756mW (BAL), 7.6V/196mW (SE), Max output power (600 ohms): 15.2V/ 285mW (BAL), 7.6V/ 98mW (SE)
Dimensions: 160(w) x 117(d) x35(h) mm
Weight: 0.85kg
iFi Zen Blue Hi-Res Bluetooth Streamer Review
DESIGN
DAC Chip and Bluetooth Implementation
For those still getting acquainted with the audiophile world, the following is good to note: iFi's Bluetooth implementation is the reason why the Zen Blue sounds so much better that the Bluetooth crap you're used to hearing. Unlike a lot Bluetooth receivers, where one Qualcomm chip covers all functions, including digital to analogue conversion, the Zen Blue has separate digital and analogue stages. The digital signal is routed from the Qualcom QCCC5100 chip to an ESS Sabre DAC chip for the digital to analogue conversion.
Outputs
Analogue Outputs – RCA, Balanced 4.4
The available outputs give you a lot of options in terms of application. You can connect to your external amp or active speakers via RCA. And the Zen Blue even has a balanced 4.4 output if you want to connect to a balanced amplifier. You could also get a 4.4.mm to XLR and hook it up to your studio active speakers. Finally, you can take advantage of the coaxial or optical to improve the audio on your TV system.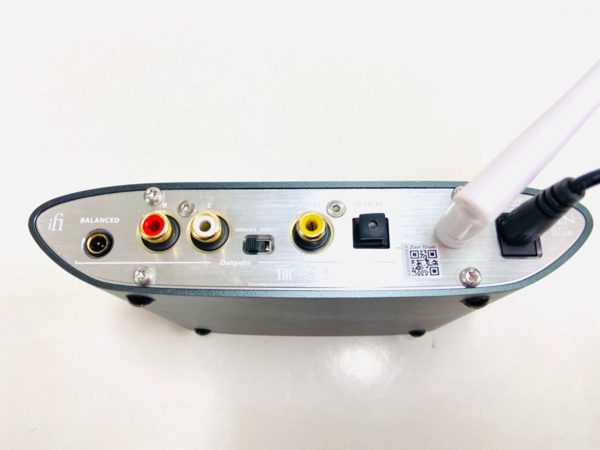 Bluetooth and Supported Hi-Res Codecs
iFi has employed the Latest Bluetooth 5.0 technology. And the Zen Blue supports all high-resolution codecs – aptX, aptX HD, LDAC, AAC and even Huawei's HWA – up to 24bit / 96kHz.
Bluetooth Pairing
The Zen Blue is able to store up to 7 paired Bluetooth devices. And the pairing button sits on the front side of the receiver. Just like a wireless headphone, it blinks until you connect it in the Bluetooth settings of your device.
kHZ LED Display
The front side of the Zen Blue has two displays, one of which is the kHz LED display – 44/48 lights up blue, while 88/96 lights up white.
Codec Format Display
The other display, lit up with the iFi logo, changes color depending on the format received. For example, using my iPhone's AAC codec, the iFi logo was yellow. If I was using Android's aptX, it would light up Blue.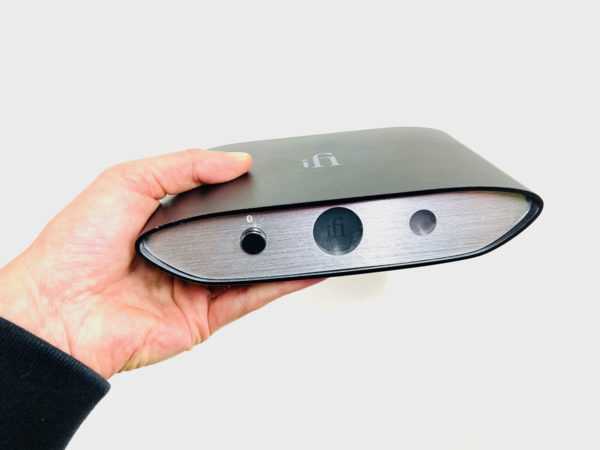 If this aesthetically minimalist design doesn't whisper zen, then I don't know what does.
SOUND
Equipment Used for Review
Unfortunately, we don't house speakers at Headphone Dungeon's headquarters. (But you can bet your ass I'm taking this thing home tonight to hook up to my stereo system). So, I had to do a little improvising. I connected the Zen DAC to our little iFi xCAN amp for the sake of brand consistency. And I streamed TIDAL via AAC from my iPhone. I also used my Campfire Andromedas, since those are IEMs with which I'm most familiar. 
Impressions
Let me preface this by saying that, in terms of the final sound result, you can't separate the DAC from the amp. So, this review is limited to the amp I used. That being said, I'm rarely this impressed. The profile on this thing is divine; smooth as silk, while maintaining a relatively neutral feel. There's no contrived warmth, but at the same time, there's nothing sterile about the Zen Blue. It reminds me a lot of the iFi Black Label Micro, though the DAC chips are different (and again, the iFi xCAN probably played a role). Highly melodic and cohesive, the Zen Blue conveys a sweet fluidity that's oh so pleasing to the ears. The peaks in the high frequencies are a tad softened, though they don't feel rolled off; The Zen Blue merely eases any sharpness that you might hear from percussion or brass in the highs, for example. And in the same way, any harshness in the upper mids is also moderated. So, it's a very forgiving listen, though the sound remains super clean and well separated. Like a good single malt scotch, it just takes the edge off.
SUMMARY
As an audiophile, I'm all about uncompromising fidelity. And I'm always sticking to wired setups. But there's also value in not getting off the couch to flip a record; lounging with my iPhone and Tidal's vast album collection at my fingertips while the sweet smoothness of this DAC lulls me into a meditative state. No, I'm not a shill for iFi. The Zen Blue is just that good. Whether you're a regular ol' music lover looking to upgrade your wireless sound or a seasoned audiophile trying to make life easier, the Zen Blue is a fantastic Bluetooth option. 

Five skulls means nothing to complain about.
You can find the iFi Zen Blue for the best price here: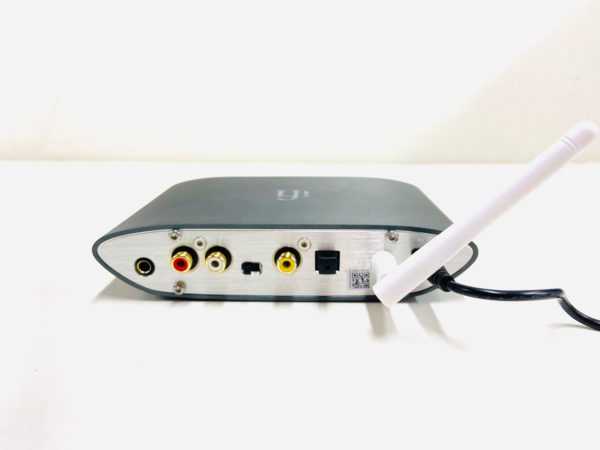 Spread the love
DAC Comparison
Let's talk first about the difference between the DACs. I think iFi is well aware of how strange it might seem to prospective customers that the Drop Signature Zen DAC has fewer features than the regular Zen DAC (which also has a headphone output), costs twice the price, and is housed in what essentially looks like the same box. This may spark some cognitive dissonance, because on the surface it looks like you're paying more for less stuff. Additionally, both units are based around the Burr Brown chip, so it should be a somewhat similar sounding device.
For anyone unfamiliar with the typical Burr Brown sound, you get a somewhat smoother and more laid back type of character as opposed to the more sharp and analytic ESS-based implementations (occasionally known as 'sabre glare'). For the HD6XX, I generally prefer higher end ESS-based DACs or AKM chips for mid-level equipment — at least for off-the-shelf chips — just because I find that running it of a system that includes the Burr Brown smoothness is kind of like doubling down on what's already there with the HD6XX, but I can certainly see why many prefer the Burr Brown sound overall.
When it comes to the differences between the DACs, here's where we have to take iFi at their word when they say they've used more premium components in the Signature DAC that have trickled down from their pro line (the excellent Pro iDSD and Pro iCAN). It should also be noted that the original Zen DAC did create some controversy by not measuring as well as the competition (even though it's still better than any audible threshold), and this may have also been due to the lack of a separate power cable, something iFi didn't include in the original Zen DAC (it's powered by USB, but there's a 5v option as well).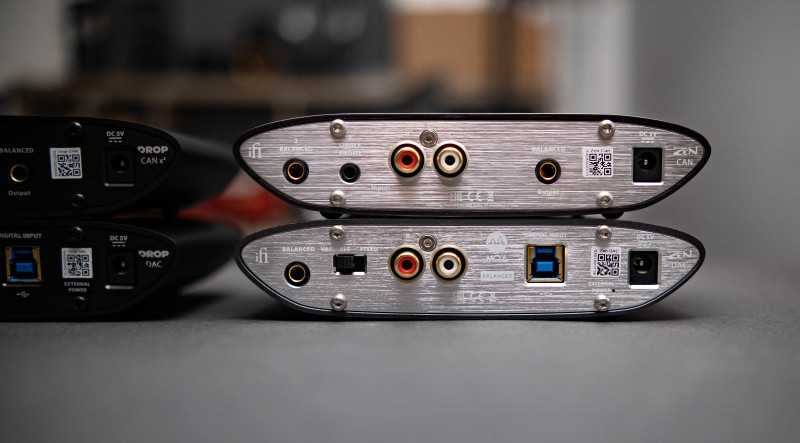 In any case, premium components or not, what I like about the Zen DAC Signature is that they've focused less on trying to cram everything into one box, and instead focused exclusively on the DA conversion function. I'm always a big fan of separating equipment to dedicated functions — better to do one thing really well than many things poorly — and in a way that's what's going on here. The big question, however, is does it sound any better? Because it's twice the price of the original.
The takeaway for me, at the moment, is that while the Signature DAC may sound better, it's not significant enough to warrant the price increase of the original — for the HD6XX specifically. If you think about the fact that this headphone costs $220, to get this plus the stack that includes both the amp and the DAC, it would run you in the ballpark of $700. And yes, I am aware of how well this headphone scales and that the original HD650 cost a lot more, but at $720 you could get into more high end headphones like the Focal Elex or a HiFiMAN Ananda — both of which don't really require much amping. So while the Signature Zen DAC may be one of the better implementations of the Burr Brown chip, certainly at its price point, in my mind that price point is a bit of a tough pill to swallow.
To me, the Signature Zen DAC sounds a bit more 'analytical' than the original Zen DAC or perhaps a more typical term would be more 'resolving', but it's a small enough difference where I'm not confident I'd be able to correctly identify it in a blind test. This perceived difference may also be within the bounds of sighted biases or other framing effects, with the knowledge that it is a standalone unit, and if anything it just goes to show that in spite of the original Zen DAC not being the king of SINAD, it's still good enough for most headphones.
It should come as no surprise to us that, while there may be some sonic differences among DACs in this price range, when they're in the same chip family, those differences aren't as significant as what you might find at the higher end — or between different chip families (or going R2R for example). So in my mind, yes, you do technically get a better performing and better sounding DAC with the Signature edition, but is it really twice as good as the regular version? My answer at the moment is no, but it'll have to be up to prospective buyers to decide how important the knowledge that it's dedicated to digital to analog conversion alone is, and that it's made with more premium components.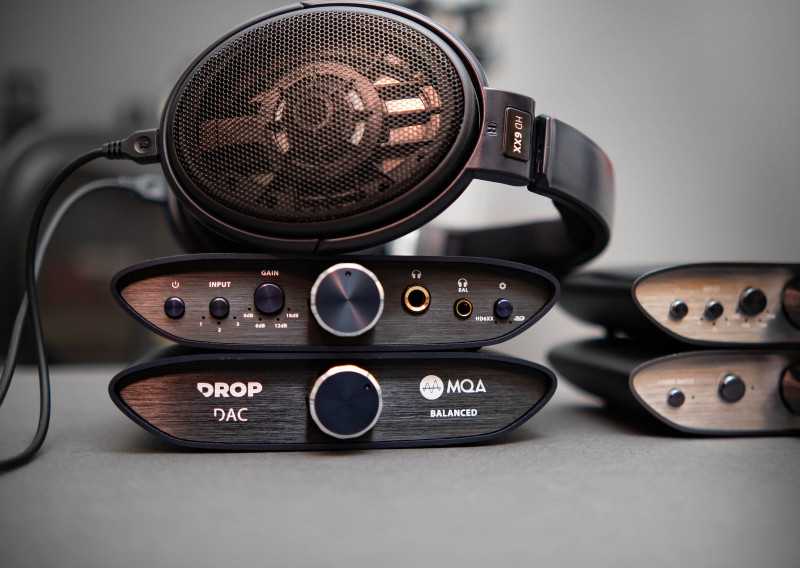 ZEN Air Phono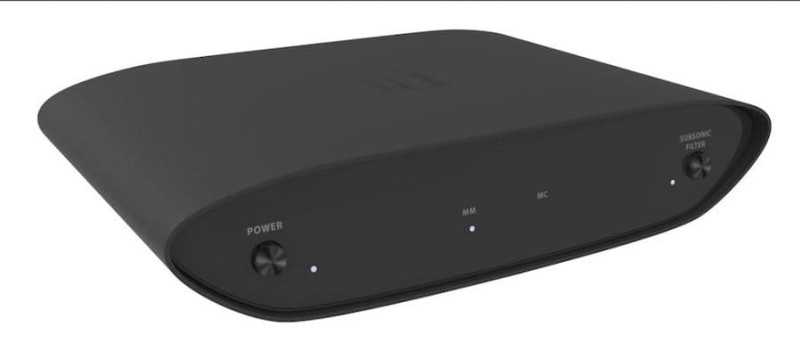 Vinyl listeners are not left out of the loop here with the brand new ZEN Air Phono that differs from the ZEN Phono by using a simpler power supply and omitting the balanced outputs.
The supply is isolated to a single section of PCB and is designed to provide clean 15V DC power without the added expense of the power supply design in the ZEN Phono that effectively acted as an isolation transformer regenerating the power from the mains to clean up any imperfections it introduced.
The connections are RCA input and outputs along with a grounding post for connection of your table's ground wire. Gain levels have been reduced from the 4 on the ZEN model to a two-position switch for moving magnet or moving coil with 40dB and 64dB of gain respectively.
The plus side is the Air Phono retains the -82dB SNR ratio of the ZEN Phono MC circuit which makes it one of the best measuring phono preamps available in its price range.     
hi-fi Bluetooth? iFi Zen Blue Review
Design
The Zen is designed for home use, made painfully clear by its internet router style appearance. It even has an antenna! But more attractive than your typical router, the front panel has only the pairing button and two indicators on the shiny metal surface.
The iFi logo in the center displays different colors depending on the codec it receives. The other indicator shines a steady blue for 44/48 kHz, and white for 88/96.
The Zen Blue comes with a power supply and RCA to RCA cable.
On the back, we have a smattering of outputs that ensure the Zen can integrate seamlessly with different home audio setups:
A 4.4mm Pentaconn balanced output for amps or speakers that can take balanced inputs (that means XLRs if you get an adapter).
Stereo RCA outputs for unbalanced amps or speakers.
Digital outputs (coaxial and optical) for use with an AV amp, external DAC or TV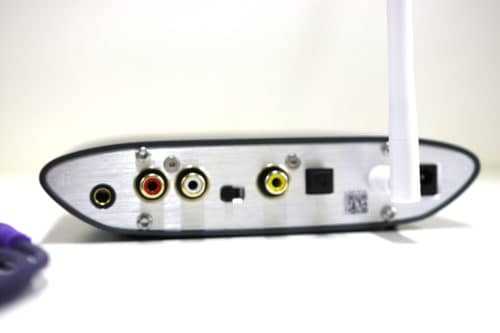 So basically, if you've been wanting to rid your hi-fi setup of a few wires but have been reluctant about letting Bluetooth fidelity into the mix, allow the Zen Blue to intervene.
If we take a look under the hood, we find a few more pleasant surprises. Fair warning: things are about to get techie.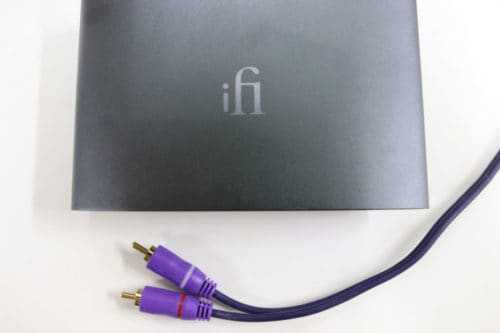 The Zen Blue utilizes the latest Qualcomm 5100 chip for converting the raw Bluetooth signal, but makes use of another chip to do the actual digital to analog conversion. This is handled by the ESS Sabre Hyperstream DAC chip, with time domain jitter eliminator, a discrete oscillator and 112dB of dynamic range. Typically, a single chip would handle all these functions (they call it System on a Chip… or is that a weird System of a Down cover band?) but iFi goes for discrete components handling each process separately to allow for greater quality in both. It's like economic specialization, but on a circuit board.
But of course all this technical jargon is meaningless if it doesn't noticeably improve the sound. So, on to the important part.
Sound
It's important to note that the Zen Blue won't solve all your fidelity problems… it is only a DAC after all. It doesn't make any sound on its own. And the quality of your music will be largely shaped by your choice of headphones, speakers and/or external amplifier. The Zen Blue is just there to make sure the highest quality audio can transmit via Bluetooth.
Disclaimer aside… it does impart a certain quality to the sound. All those fancy chips inside are doing something after all! The question is… what?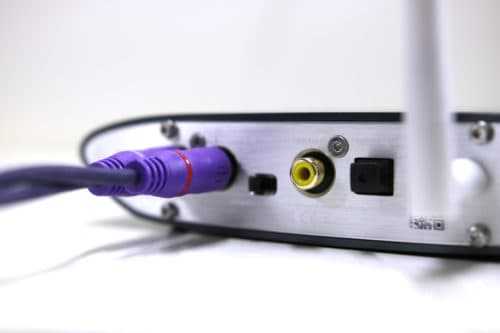 I didn't get the opportunity to use the Zen Blue with a home stereo setup, which is where the fidelity would truly shine. But after pairing it with a few different headphone amps to get a feel for it, I came away with a general impression: smooth. 
The effect is subtle, and it's tough to describe without getting too abstract. But music felt smoother, lows and highs felt clearer, and the midrange emphasis received a slight shift. I noticed a slight, glossy shine in the high-mids as well as the highs. The lows and the low-mids get smoothed over in a way that makes all the frequencies sound very cohesive.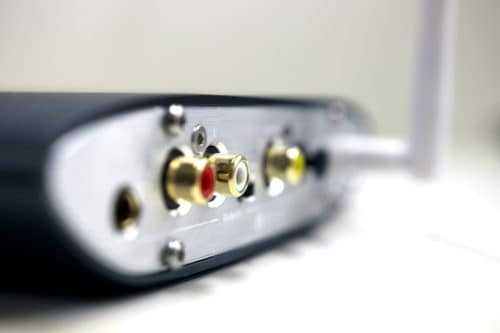 I wouldn't describe it as warm… and it doesn't boost the highs in that classic "hi-fi" way either. Smooth is the word that keeps coming to mind. It takes all the frequencies and gives them a nice massage, relaxes them and helps them all play nice together.
Summary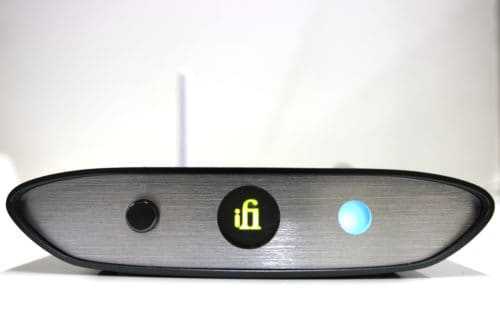 In short, the Zen Blue does what it says, and does it well. Nothing more, nothing less. Zen indeed. It will significantly improve the quality of Bluetooth audio, and it will fit into most existing home audio setups.
It's a pretty niche product, as you will need your own preamp, speakers, etc. to get the most out of it. For your average plug-and-play or on-the-go-listener, it will be useless. But if you have already dropped more money than you care to admit on home audio, and you wish there was a way to sneak a little Bluetooth into the mix, the Zen Blue is for you.
Find one at Audio46
MajorHifi may receive commission from retail offers. 
Denon Professional DN-200BR
Качественный звук
Построен как танк
Балансные выходы XLR
Вариант монтажа
Выходы: 1 XLR, 1 RCA (оба стерео) | Дальность: 33 метра | Вес: 600 г
В качестве нашего фаворита мы хотели включить приемник, который мог бы формировать надежное соединение Bluetooth и иметь отличное качество звука
Наряду с этим очень важно хорошее соотношение цены и качества. К счастью, Denon Professional DN-200BR превосходит все это и многое другое
«Профессиональная» часть названия здесь определенно оправдана.
Самое поразительное в этом Bluetooth-приемнике — это качество сборки. Он сделан из металла и кажется невероятно прочным. В этом тоже есть некоторый вес, а это значит, что он не разобьется в ближайшее время. Denon спроектировал это таким образом, чтобы его можно было установить рядом с вашей системой или в ней. Имеет встроенные проушины для крепежных винтов.
На передней панели у нас есть индикатор состояния, регулировка уровня, собственный порт для модуля Bluetooth и вход постоянного тока 5 В, 2 А для питания. Сзади у нас есть два небалансных выхода на четверть дюйма и два балансных выхода XLR. Это замечательно, если вы хотите использовать с ним высококачественное оборудование. Если вы хотите использовать его с традиционным разъемом 3,5 мм, вам понадобится адаптер.
Как и следовало ожидать от Denon, качество звука просто исключительное. Если вы не используете очень качественную комбинацию ЦАП / усилитель, вы, скорее всего, не заметите серьезного провала в звуке. Конечно, есть небольшие потери звука, но они едва заметны. Цена на него немного выше, чем у большинства людей, но оно того стоит.
Аудиоадаптер Logitech Bluetooth.
Чрезвычайно маленький размер
В комплекте кабель 3,5 мм на RCA
Хорошее качество звука
Несогласованное соединение
Делает раздражающие звуковые сигналы отключенными
Выходы: вспомогательный 3,5 мм, RCA (стерео) | Диапазон: 50 футов | Вес: 100 г
Далее, у нас есть чрезвычайно маленький и компактный Bluetooth-приемник. Серьезно, можно положить эту штуку в карман и почти не заметить. Этот аудиоадаптер Logitech Bluetooth определенно выглядит и ощущается как часть, а также отлично звучит. Однако здесь есть свои причуды.
Благодаря небольшому размеру его невероятно легко спрятать в развлекательной системе. Вы даже можете наклеить на него двусторонний скотч и спрятать под столом. Он получает питание от адаптера питания, который можно подключить к задней части устройства. Он имеет дополнительный выход 3,5 мм, а также RCA. Logitech даже включает кабель RCA 3,5 мм для дополнительной гибкости.
Гигантская кнопка Bluetooth наверху — это то, что активирует процесс сопряжения. С этого момента вы просто соединяете устройство с телефоном, и все готово за считанные секунды. Он имеет диапазон около 50 футов. Качество звука на самом деле неплохое, учитывая небольшие размеры. Есть небольшое сжатие с потерями, но ничего, что могло бы сделать его неприятным.
Однако настоящая проблема — это связь. Это действительно крепкая связь, но имеет тенденцию много прыгать. Если вы соедините два устройства с этим ресивером, он будет часто переключаться на одно с более сильным сигналом, даже при воспроизведении звука. Можно сказать, что это непоследовательно. Кроме того, он издает очень громкий шум при подключении, что очень неприятно посреди ночи.
Features
(Image credit: iFi)
The company's engineers have tried to make the Zen as accommodating as possible, so it accepts a wide range of Bluetooth codecs including aptX HD, AAC and Sony's LDAC.
iFi Zen Blue tech specs
(Image credit: iFi)
Power DC 5V
Inputs Bluetooth 5.0TM with AAC, aptX, aptX HD, LDAC, HWA Codec
Outputs Optical/Coaxial, Audio RCA L/R, 4.4 Balanced Lineout
Frequency response 20Hz – 20kHz
Dimensions (hwd) 3.5 x 15.8 x 10cm
Weight 0.8kg
While there's cross-compatibility between Bluetooth types, iFi is trying to make the most of any signal the Zen receives.
Alongside the expected stereo RCAs, the Blue also offers a balanced 4.4mm Pentaconn analogue output, as well as optical and coax digital alternatives. There's a small switch on the back panel that swaps between the analogue and digital outputs.
It only takes a minute to get the iFi going. Simply fit the screw-on Bluetooth aerial, plug-in the 5v mains power supply and pair with your Bluetooth device. We connected to both an iPhone X and an Apple MacBook Pro without issue.
Atención
Las siguientes marcas NO están disponibles para envío internacional: Abyss, AKG, ALO Audio, Astell & Kern, Audeze, Audio-Technica, Bowers & Wilkins,
Campfire Audio, Chord Electronics, Dan Clark Audio (antes MrSpeakers), Eleven XIAudio, FiiO, Focal, Fostex, Grado, Hifiman, JBL, Klipsch, Meze Audio, Musical Fidelity, Naim, RAAL-requisite, Sennheiser,
Shure, Sony, SPL Audio, STAX, T+A, Vision Ears, y Woo Audio
Si necesita más ayuda, envíenos un correo electrónico a: [email protected]
(Para evitar que nuestras respuestas lleguen a su carpeta de correo no deseado, le recomendamos que agregue [email protected] a sus contactos)